Can you believe how fast they grow up? Before you know it they're out the door and on their own. And YOU have a closet full of keepsakes!
A custom shadowbox or preservation frame is one of several ways that you can choose to maintain the quality of childhood keepsakes.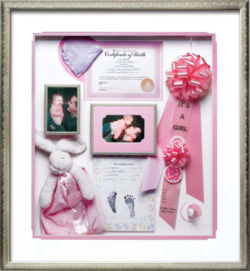 Be sure to ask your professional framing and design specialist for ideas that can incorporate clothing, baby shoes, toys – even a lock of hair! High quality materials, such as acid-free paper and mats, and UV protective glass, are critical to ensuring the quality and longevity of your child's cherished items.
Display the finished product with as much pride as the day they were born!