We love framing our customers' vacation pictures and this shot of the Eiffel Tower is no exception. On a recent vacation in the City of Lights, he set out to get an extraordinary shot of the iconic tower, something, as he put it, different than the usual shots of it sticking straight up against the skyline. Instead, he looked up at one of the legs from a close distance and knew he had the view he wanted.
It was a great view, but he wanted more. With a few minutes worth of work in Photoshop he converted it to black and white and added just a hint of graininess for an artistic touch. C'est magnifique!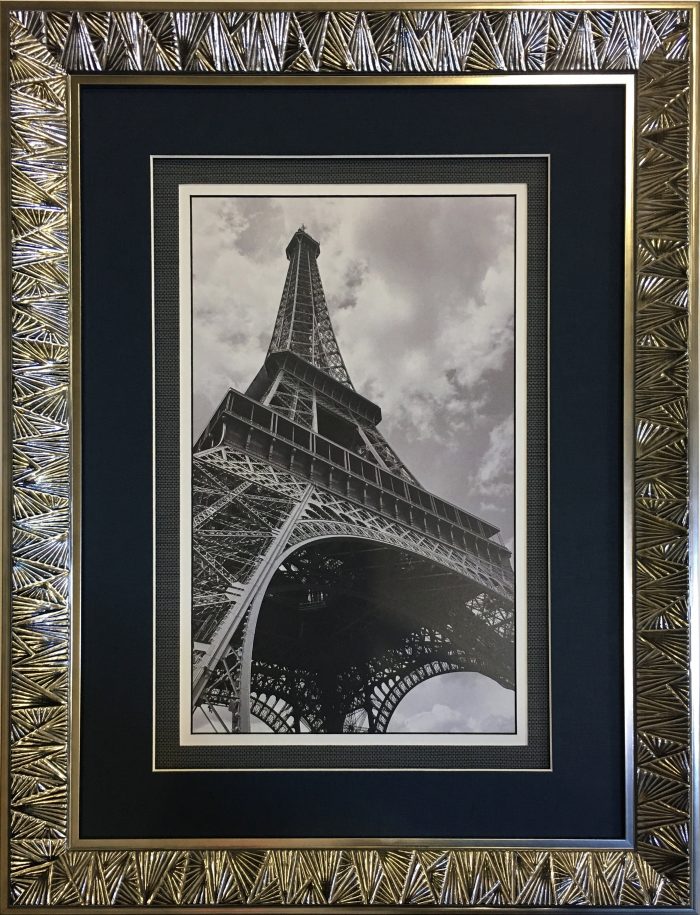 Now it was our turn to work our magic. We usually like to start our designs with the mats and then move on to the frame, but in this case our customer happened to spot a frame that was just perfect for his photo. Its design can easily read Art Deco, but the design and angles beautifully complement the lines and angles of the ironwork. We knew it was the right frame immediately.
Next it was time to look at matting. Black and white photography often gets black and white matting, but were all in a more playful mood and decided on a triple mat design. The middle mat is a grey linen for color and and a nice touch of texture, and the top mat is a finer linen in a deep blue. In general it reads as black but adds a subtle touch of color. See, it doesn't always have to be black and white!
Our customer was thrilled, and so were we. We loved it so much we almost didn't let him take it home!