Did you know that this year, vinyl record sales topped CDs for the first time since 1987? Even though streaming still dominates, for those of us who like to hold our music there's just something about vinyl that nothing else matches. Sure, we can argue all day about the sound quality and all that, but there's no getting around the fact that an LP can't be beat when it comes to the art. Just think about a prism and rainbow and you immediately know it's Dark Side of the Moon. How about Stop Making Sense and David Byrne's big suit? Have a look at the Top Ten Album Covers as selected by the readers of Rolling Stone and see if your favourite is on the list.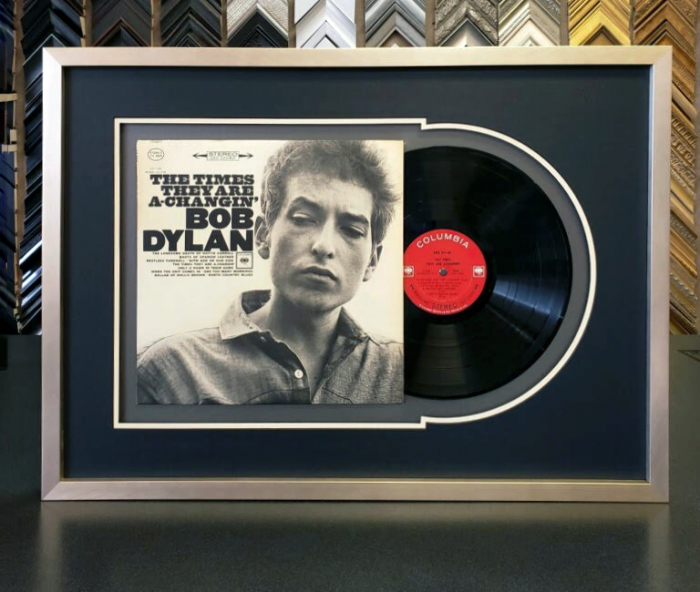 Chances are good that you fellow Gen X-ers still have a pile of albums sitting around somewhere. You listen to the music every day on your phone, but why not enjoy that great art too? That's what one of our customers recently did, and we had a great time framing it. It certainly started a lot of conversations about the days before autotune when singers could still sing.
The album and record don't have a lot of color, so we kept the color scheme simple and neutral, with a dark mat to add contrast to the black and white cover. The red label adds a nice pop of color, and we framed it partially out of the sleeve so you can read the track list. Museum Glass finishes it off with invisible protection and perfect clarity.
By the way, if our customer ever wanted to take this album out of the frame and play it, she could. Both the record and the sleeve are held in place without tape or glue of any kind. That means they could be taken out of the frame pretty much exactly in the same condition they were in before being framed, ready to put on the turntable.
So what's your favourite album? We'd love to see it, and frame it!